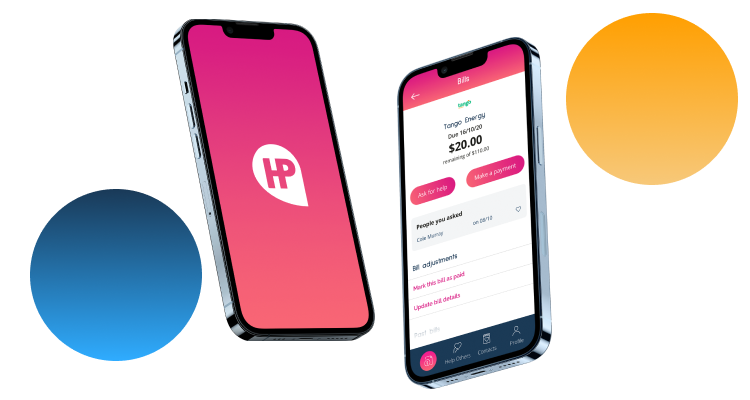 About HelpPay
HelpPay is 100% Australian owned and we're located just a 15 minute walk from the MCG, in Melbourne, Australia. 100% of the development of our business has been built right here in Australia.
We believe that if asking for help and giving help is easier then all sorts of wonderful outcomes improve.
We have talked to hundreds and hundreds of people right around Australia who have told us over and over how much they are willing to help, but often it is really hard or when they give money to someone they're left hoping it went to the right place and it just didn't feel like the loop closed for them.
We believe
We believe that short term money challenges don't define a person and we believe that great things happen when family and friends come together to support one another.
We believe we can play a positive role by making helping easier, more transparent and much much less effort.
By achieving our goal of making helping easier we help make moments of hardship shorter, or ideally, not exist at all for some people.
The benefits that flow from reducing or avoiding financial hardship are many, including; fewer people feeling stress, less worry about the future, people knowing they are loved and supported in new ways, and just being happier.
Ultimately, a happier less-stressed home is better for everyone in and around the home.
Easier is just better
We believe in fairness, we believe helping out should be easier and that's what we strive to do every single day.
When someone needs help, sharing the load and chipping in amongst a group of friends is what comes naturally to all of us.
In those moments what can really help is money to keep the lights on, the hot water running, the aircon going, and the internet connected and enabling the people you love focus on getting back to normal. But helping is all a bit hard and clunky.
Calling a friends electricity company? Impossible. Just sending money to their bank account can be done, but how much is needed? What will it cover? And asking for the whole bill to see what's owed? No way.
It's all too awkward, too much back and forth and far too hard. Helping should just be easier, all the information you need should be right in front of you on your phone, and it should just be an app and a few finger taps. And now it is.
How We Contribute
We make positive contributions through and for our people, community, and the environment. That's why:
Every employee gets three days off a year for charity work
We donate money to charities every time we hire someone
The electricity we use at our offices is 100% renewable
We 100% carbon offset flights and travel
If we ever have company cars, we will only use 100% electric vehicles
Excited about what we're doing? Want to get involved?
If you'd like to work for us, follow us and keep an eye on our LinkedIn.
Want to give us an idea? Let us know on the form below.